Fred Quale-deceased
Fred Quale
Feb. 11, 1918 — Dec. 7, 2015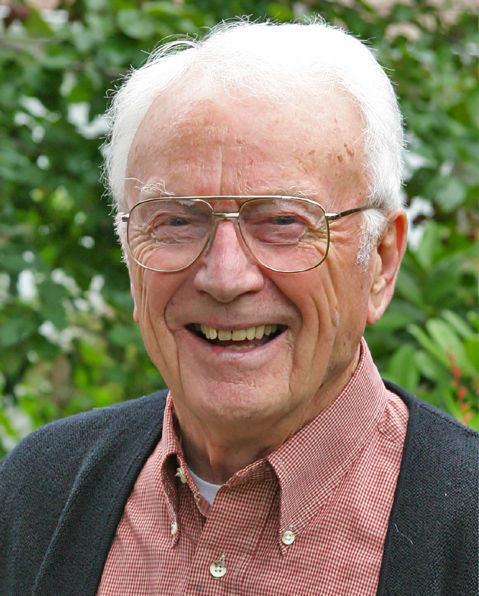 Fred Quale died peacefully surrounded by his family on Dec. 7.
He was born into a family of 10 on Feb 11, 1918, in a one-room house on his family's homestead farm on the plains of North Dakota. When he was a child, the family moved to Portland where he grew up.
He volunteered for the American Field Service prior to Pearl Harbor and served as an ambulance driver with British forces in the North African Theatre. He then served with the Army Air Corps after the U.S. entered the war.
Fred married Helen Crary in 1944. They met during college while working at Crater Lake in the summer of 1941. After the war he began his long career in Corvallis as an educator. He was a history teacher at CHS for 11 years, vice principal of Highland View, then became the first principal of Western View Junior High School. He served as the assistant superintendent of the Corvallis School District for many years until his retirement. A colleague described him as "a good man and a first rate educator."
During his years of teaching, he and Helen raised six children while he earned a master's and a doctorate in education.
Fred had a lifelong interest in world history and cultures and he and Helen traveled extensively in Asia, Europe, Central America and the United States. He loved family activities and shared with his family his enjoyment of nature while camping and backpacking in the Oregon Cascades. His wide-ranging interests also included music, poetry, literature, gardening, woodworking and reading about history and current events. He was known to his friends and family as both an interested listener and a skilled conversationalist.
After his retirement Fred and Helen joined the Peace Corps, serving for three years in Botswana, Africa, where they were on the faculty of a teacher training college.
Fred had a strong sense of the importance of contributing to his community. He was active in Kiwanis, Stone Soup, Great Decisions, Dial-a-Bus, the Corvallis chapter of the Red Cross and the Corvallis Senior Center well into his 80s.
He is survived by his wife of 71 years, Helen; children Pam (Thomas), Joanne (Chris), David (Kamala), Bob (Bil), Jane (John) and Karen (Richard); 11 grandchildren, Kaja, Andrew, Sarah, Annalise, Elizabeth, Josh, Seth, Tanna, Zavi, Eric and Thomas; and three great-grandchildren.
A celebration of life will be at 1 p.m. Friday, Dec 18, at the First United Methodist Church in Corvallis.
In lieu of flowers, contributions can be made to the Corvallis Chintimini Senior Center.