Homer Twedt-deceased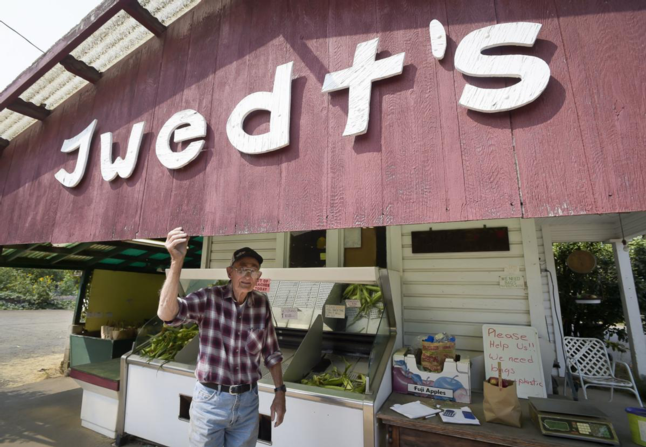 Twedt's life in farming
September, 2018
Homer Twedt spent a recent morning on a tractor dragging a float through one of his filbert orchards in north Corvallis. The farmer is preparing the nut trees for harvest.
The 94-year-old Twedt, who is tall and lanky, wore Wrangler jeans, a red flannel shirt and a ball cap with the words Crop Production Services stitched into it. He has been tending Twedt's Willamettedale Farms at 2015 NE Seavy Ave. for more than 55 years.
Though farming is in his blood, Twedt hasn't always focused on agriculture.
Twedt was born in Seattle and grew up on a subsistence farm in Paulsbo, west of the big city. His grandfather had started the farm, growing fruits and vegetables and raising dairy cows.
"I kind of take after what my grandfather did," Twedt said. "It's in the family."
In 1944, Twedt was drafted and served for two years during World War II as a tank driver. He returned home with the GI Bill and went to the University of Washington to study education. There, he met his wife, Alfreda, and the two married in 1951.
Both Twedts taught at schools in Washington before moving to Germany to teach at military schools. Their first child, Sprague, was born in 1957 in Landstuhl.
The small family moved to Corvallis in 1959 so Twedt could pursue his master's degree at Oregon State University. Following his graduation, Twedt was hired to teach chemistry at Corvallis High School, where he would work for 17 years.
"Everything just fell in line," Twedt said. "I was very fortunate."
About a year after the Twedts moved to Corvallis, they bought the farm on Northeast Seavy Avenue. In the beginning it was just six acres. There were walnut trees on the property, and Twedt planted peach and apple trees. For many years he and his wife focused on growing berries, including strawberries, raspberries and marionberries. They would hire schoolkids to pick the berries.
In 1963, the Twedts adopted their daughter, Tamara. Today she runs the farm stand on Seavy Avenue. It's the same farm stand that stood on the property when the family bought it, though Twedt has replaced the roof. The farm stand has had many regular customers throughout the decades, but Twedt relies on some new ones every year, who hear about the farm stand by word of mouth.
"People have been very faithful about it," he said. "I can't complain."
Twedt said he did lose some profits when a barrier was installed on Highway 20 at Seavy Avenue in the early 2000s.
"They cut off the road down here a long time ago, and that obstruction of the road prevents people from driving in here, and because of that I've been getting by but with only about a third of the volume I used to have," he said. "But that's alright with me. I hated all that traffic in the first place."
The farm stand operates on an honor system. Twedt leaves a coffee can on the stand and asks customers to pay for their produce and make their own change.
"I've been doing that since 1960," Twedt said. "If anything, sometimes people put extra money in there. I don't think I lose money at all."