Corvallis

High School




Class Of 1965
ANNOUNCEMENTS
Many of us will remember Mrs. Lachelle with great fondness. I have posted a part of her obituary here but if you look under "Our Teachers" there is the complete biography as the first flyout subject. She led a fascinating life. I also posted, at the bottom of the obituary, a drawing she made for my Junior High yearbook. I think many who had her as a teacher have similar drawings.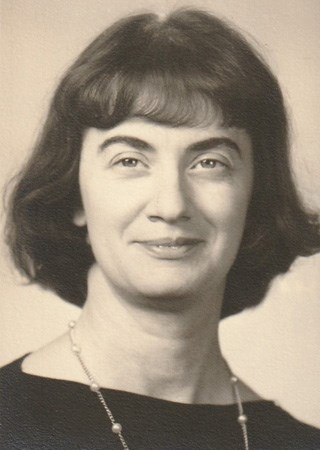 Norma Becker Gonzo Lachelle
June 30, 1923 - Sept. 15, 2022
People in Corvallis who knew Norma Lachelle generally remember her as a teacher of Art, Latin, and French at Highland View Junior High (now Linus Pauling), Western View, and Crescent Valley. Teacher evaluations from her various principals over the years may remind them of the kind of teacher she was.
From 1967: "Mrs. Lachelle is a classroom phenomenon. She is an experience that every child deserves to have." This evaluation goes on to note the "buzz of enthusiasm that pervades the atmosphere where her students are at work, even when the subject at hand is Latin."
From 1970: "It would be difficult to improve on what was said about Mrs. Lachelle three years ago. However, it is quite possible that that glowing evaluation understated the case."
From 1978: "Superlatives are easy to use when describing this highly professional lady. She has a magnetic personality and is the favorite of many students and faculty members alike."
Decades later, remembering Mrs. Lachelle on the occasion of her 90th birthday, similar remarks would be echoed by her former students: "She made a huge impression on me at Highland View."
"One of my favorite teachers all-time."
"I loved her as my junior high art teacher… actually the best art teacher I have ever had."
"I loved Mrs. Lachelle and think of her often. She was a super teacher and enriched our lives greatly."
"She truly influenced my life. I became a graphic designer because she saw talent in a shy girl that really needed what she offered: encouragement."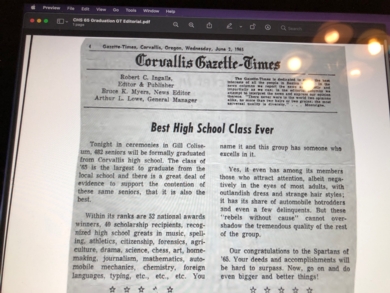 ********************************
Welcome to the new CHS '65 website!
There are lots of new features to help us stay in touch, tell our stories, and plan the reunion. The biggest change is that you can now create and edit your own page. Make changes anytime!
Get Started
To get started, click Classmates at the upper left and then click on your name. Click the click here now link and fill out the Member Wizard. Fill in your e-mail address. To keep someone from signing up as you, we will verify you before you have access to the private areas of the site. That should take less than 24 hours. In the meantime, please enjoy the public areas of the site.
Missing Classmates
We have lost contact with many classmates over the last five years, hopefully due to happy events such as retirement! Help us to reach as many classmates as possible by contacting all your friends from the class and asking them to check out the website and to update their contact information either on this website or by calling or emailing Sue or Jim. Click Contact Us at the left.
Privacy
Our new website offers several options to protect your privacy. Click Privacy at the left.
Contact Us!
We'd love to hear from you. Click Contact Us at the left and call, e-mail, or write.