Corvallis

High School




Class Of 1965
ANNOUNCEMENTS
Information is coming slowly relative to Cathy's passing. There was a death notice in the Gazette-Times/Democrat Herald on May 17th reproduced below:
Cathryn Elizabeth Ingalls passed away May 12, 2022. In keeping with her wishes, no public ceremony will be held. Assisting is Virgil T. Golden Funeral Service.
Further information will be posted when we receive it.
SAVE THE DATE! ALL-60S ANNUAL GATHERING!
AUGUST 26-27, 2022
We are trying once again and have high hopes that after COVID-19 dashed our plans in 2020 and 2021 we will successfully gather together this year.
More details will come soon, and a final decision will be made before the end of July, but do plan to come and join in the fun and friendship.
Friday night at the Corvallis Club and a picnic on Saturday at Willamette Park, tried and true!
Please email butlerj47@comcast.net if you have any questions before our next announcement and make sure we have your current email address so we can reach you!
GO SPARTANS!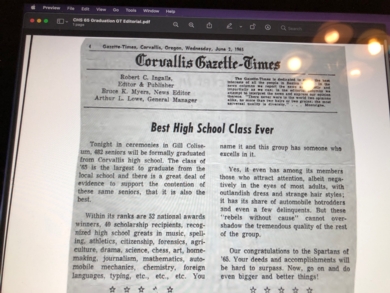 THE ALL 60's ANNUAL REUNION,
AUGUST 28 and AUGUST 29, 2021
The COVID-19 pandemic in 2020 required that we defer our 3rd All-60s Annual Gathering and the 55th Reunion of the CHS Class of '65. Until the Delta surge in July, 2021, we were fully committed to holding all the annual events and the "55th Plus One" reunion in 2021. But that was not to be.
The Friday night event at the Corvallis Club and the Saturday picnic at the Rotary Shelter in Willamette Park were cancelled due to the inability to insure social distancing as required by the State of Oregon and City of Corvallis.
The Thursday event at Emerson Winery was still held as the outdoor venue is vast and the winery was open only to our group. Even though it was the 55th (+1) reunion of the Class of 65, EVERYONE in the All-60s group was invited to join in the fun! It was a beautiful sunny evening and Dale and Toni MacHaffee arranged a delightful event for about 50 guests. Double JJ Barbeque provided a hearty and delicious meal and the Amos True band entertained with music from our era. The Emerson Family and Friends provided wine tastings and a no-host bar for wine, beer and soft drinks. A drawing was held and Burtons Restaurant Cookbooks, passes to the Corvallis Museum and several bottles of Emerson wines were provided by generous donors. The wind came up and it got quite cold after sunset so we departed earlier than planned but enjoyed meeting new friends and reconnecting with old!
On Friday and Saturday, small group events were arranged by Tami Oberson Markham and her energetic Portland-based committee. There was a bicycle ride along the eastern-most part of the newly opened C to C trail from Corvallis to Ona Beach, a hike along the Bald Hill trail, some individuals visited the Corvallis Museum and Bob Hansen arranged a well-attended gathering at the old Harding School building for the members of the CHS Class of 65 who attended Harding during their formative years.
On Saturday afternoon, Mike Franklin and Eric Blackledge facilitated a Zoom meeting of many CHS alumni from several classes. It was free-flowing and very entertaining to hear from people near and far, some from CHS 65 who had not been able to attend in-person events for several years!
We could not meet in 2020, and the Delta Variant dealt us a blow in 2021, but we are moving forward with determination toward events in 2022! Please SAVE the DATE for August 26 and 27, 2022.
Many thanks for Judy Butler for this recap of the reunion.


********************************
Welcome to the new CHS '65 website!
There are lots of new features to help us stay in touch, tell our stories, and plan the reunion. The biggest change is that you can now create and edit your own page. Make changes anytime!
Get Started
To get started, click Classmates at the upper left and then click on your name. Click the click here now link and fill out the Member Wizard. Fill in your e-mail address. To keep someone from signing up as you, we will verify you before you have access to the private areas of the site. That should take less than 24 hours. In the meantime, please enjoy the public areas of the site.
Missing Classmates
We have lost contact with many classmates over the last five years, hopefully due to happy events such as retirement! Help us to reach as many classmates as possible by contacting all your friends from the class and asking them to check out the website and to update their contact information either on this website or by calling or emailing Sue or Jim. Click Contact Us at the left.
Privacy
Our new website offers several options to protect your privacy. Click Privacy at the left.
Contact Us!
We'd love to hear from you. Click Contact Us at the left and call, e-mail, or write.