Corvallis

High School




Class Of 1965
ANNOUNCEMENTS
CHS 60s Annual Gathering

"Forming, renewing, building and maintaining friendships"

Our 4th Annual ALL 60s CHS Multi-Class Gathering with the classes of '60 -'69 and those who identify with members of those classes is scheduled for August 25-26, 2023. Stay tuned to the
Facebook pages below and your class website(s) for the latest information and updates as the time nears!

Also check this website: www.chs65.info in the Home Page Announcements section. You do not need to log in to this website to see the All 60's information.

There are several Facebook Pages where updates will be posted.

The primary page is "Corvallis High School '60's Annual Gathering" hosted by Bob Hansen. Please visit (and "Like" it!) to let your friends find it.

Nancy Butler Neary also posts on related Facebook pages so if you are a member, you can check these, too: "Corvallis HS 1967 and Friends" and "CHS Ladies of the 60's".

Please, please help us get the word out by sharing with all your Spartan friends who are not on Facebook or the class websites.

Also, please update your contact information with your class website managers so you stay informed about this event!

You can also check out the marquee of the Whiteside Theatre from August 7-13th! The All 60's Annual Reunion will be featured!

We plan to have PSAs on the radio and in the Gazette Times/Albany Democrat Herald newspaper.

Here is a link to the Visit Corvallis website: https://visitcorvallis.com/

This website provides lists of places to stay, dine and visit during your stay. It is a great resource for Corvallis and the area.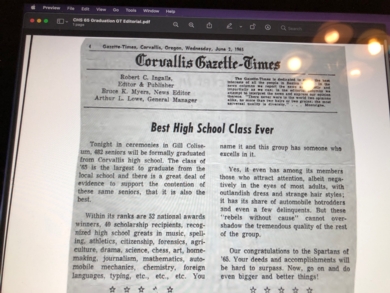 ********************************
Welcome to the new CHS '65 website!
There are lots of new features to help us stay in touch, tell our stories, and plan the reunion. The biggest change is that you can now create and edit your own page. Make changes anytime!
Get Started
To get started, click Classmates at the upper left and then click on your name. Click the click here now link and fill out the Member Wizard. Fill in your e-mail address. To keep someone from signing up as you, we will verify you before you have access to the private areas of the site. That should take less than 24 hours. In the meantime, please enjoy the public areas of the site.
Missing Classmates
We have lost contact with many classmates over the last five years, hopefully due to happy events such as retirement! Help us to reach as many classmates as possible by contacting all your friends from the class and asking them to check out the website and to update their contact information either on this website or by calling or emailing Sue or Jim. Click Contact Us at the left.
Privacy
Our new website offers several options to protect your privacy. Click Privacy at the left.
Contact Us!
We'd love to hear from you. Click Contact Us at the left and call, e-mail, or write.