Jay Les. Kilbourne-deceased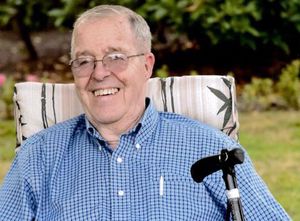 Jay Leslie Kilbourne
April 8, 1932 — May 23, 2017
Jay Leslie Kilbourne, who was known to his family as Les, was born in Columbus, Nebraska, on April 8, 1932, to Jay and Velma Kilborn. A doctor's mistake on his birth certificate, which was not discovered until his induction into the Army, caused a lifelong spelling difference in his last name that became a story to retell many times in his life.
His father, Jay, worked for the Rural Electric Association, erecting power lines around the Midwest. As a result, the family moved frequently and Les attended numerous schools in his early years.
The Second World War brought an end to the REA and the family moved to North Bend to join other Kilborn relatives. Les finished grade school then graduated from North Bend High School in 1950.
He worked for the Pepsi Cola Bottling Co. for a year and then entered the U.S. Army from 1951 to 1953. He then returned to the bottling company for another year. He enrolled at the University of Oregon in 1954, graduating in 1958 with a Bachelor's of Science degree. He earned his Master's degree in 1963 from Oregon State University.
He married Elva Mae Beeman in September 1956.
In September of 1958, he began a 34-year career with the Corvallis School District, teaching first at Corvallis High School and later at Crescent Valley High School. He retired in June of 1992. Over the years he taught Biology, Life Science, Anatomy, and Physiology, Math, Driver's Education, and Driver's Training. His love for students was well known. Three sons were born to Les and Elva who also attended those schools.
Les and Elva also owned some rental property which Les considered his hobby.
He was an Elder and Trustee at Calvin Presbyterian Church for many years, where he taught Sunday and Bible School Classes, was a youth group leader with Elva and sang in the choir.
He is survived by his wife Elva; sons Randy (Sue) Killbourne of Shady Cove, Gregg (Denise) Killbourne of Scappoose, and Rob Killbourne of Salem; daughter Lisa Killbourne of Corvallis; 11 grandchildren and 11 great grandchildren; a brother, Charles Kilborn of Lebanon; and a sister, Nancy Castillo of Eugene.
In 1993 John and Jenny Xu and son Andrew entered our lives and have become a part of the family in heart and spirit. Les had numerous former students who greeted him warmly on each meeting and many who maintained contact with him. He liked people and enjoyed his students and tenants as well as his many friends. He would seek out people in a gathering who seemed to be on the fringes and needed someone to talk to.
Les was a man who did not make commitments lightly; once made they were solid. Thus was in his faith in Jesus Christ and his commitment to the church. He will be missed by the many that knew and loved him.
A memorial service will be held in his honor at 3 p.m. Saturday, June 17, at Calvin Presbyterian Church, 1736 NW Dixon St., Corvallis.
Memorial gifts may be made to Calvin Presbyterian Church and designated for the Asante Kids School Program in Uganda or Food for the Hungry.
Please leave your condolences at www.mchenryfuneralhome.com.
Comment from Mike Franklin:
We have lost one (1) of our teachers, Jay Leslie Kilbourne. Interestingly, he apparently went by Les rather than Jay although I seem to recall any time I heard him called by his first name, it was always Jay. We were lucky to have him at our class reunion for the Friday night gathering. He wanted to see people badly enough that he was the only teacher (with his wife) at our Friday gathering.