Barbara Sackett-deceased
Barbara Sackett
(Harry Sackett's widow) Harry A. Sackett as born April 25, 1912 and
died Nov. 6 1999 at his home in Corvallis at the age of 87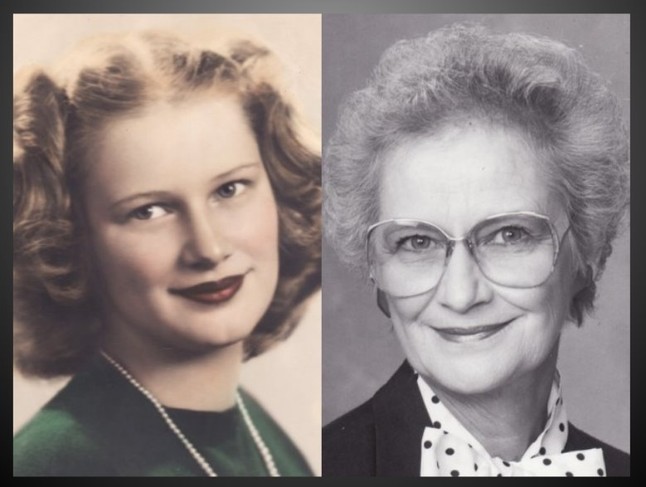 September 30, 2012 8:00 am
July 16, 1932 — Sept. 21, 2012
Barbara Lou Callaway Sackett, 80, of Corvallis, descendent of early American colonists and of the earliest Oregon Territory pioneers, took her place among her ancestors on Friday evening, Sept. 21, the last day of summer.
Barbara was born on July 16, 1932, in Salem to Warren Callaway and Lena Pearl Keen. Her great-great-great-grandparents were missionaries Henry Harmon Spalding and Eliza Hart Spalding, who came west in 1832. (Eliza graces the mural of the capitol rotunda).
Barbara grew up in Salem (with a couple of years in Portland), attended Salem High School, and then went to Oregon College of Education in Monmouth and received a Bachelor of Science degree in elementary education, 1953. She started teaching sixth grade in the tiny coastal timber town of Bridge. There she met widower Harry Sackett, who had three children and lived in the other half of their duplex.
They married and she raised his children as her own and added five more to the family. They moved to Alberta for a time, but returned to the Corvallis area when her mother had a stroke in 1955. Family always came first.
One of Barbara's children, Lee Ann, was born with Down Syndrome in 1956. While urged to institutionalize the child, Barbara instead went to work to change attitudes and perceptions, and to try and make life better for people with intellectual disabilities.
She went to work for the local Arc organization, served as president of Benton County (1966-69), Oregon (1969-1971) and finally two terms at National Arc (1988-92). She returned to OCE in 1970 and received her master's degree in special education in 1971. She became services coordinator for the developmentally disabled in Benton County and became statewide area coordinator for DD services for the Mental Health Division of Oregon in 1987.
She advocated, coordinated and shaped services for citizens with intellectual disabilities in Oregon and nationwide, working to integrate them into the community, high schools and group living situations. LeeAnn, now 55, has had her own apartment for many years and is a valued member of our family.
Barbara Sackett altered and improved the course of thousands upon thousands of lives. She received a Governor's Award for Volunteerism in 2009, among countless accolades over a lifetime. She, too, was a pioneer, and her work will long outlive her.
Upon her "retirement" in 1989, she continued to do volunteer work for Benton County Arc and Willamette Neighborhood Housing Services (2001-12), and somehow found time and energy to provide appetizers for local Democratic Party functions. She also proudly served as treasurer for State Representative Sara Gelser's election campaigns. Two years ago she took a month to drive cross country with lifelong friend Pat Malango.
She was a staunch supporter of theater and the arts; loved holidays, birthdays and large family gatherings, "Jeopardy" and crossword puzzles, the Beavers (thank you, OSU 10-Wisconsin 7) and her tightly knit Thursday night trivia group right to the end.
She is survived and beloved by all eight children; 14 grandchildren and the spouses they embraced; 16 great-grandchildren; and many loving friends and relatives.
Services will take place at 3 p.m. on Sunday, Oct. 7, at the Unitarian Universalist Fellowship of Corvallis, 2945 N.W. Circle Blvd.
In lieu of flowers, she would like donations sent to the following: Arc of Benton County, Oregon; Willamette Neighborhood Housing Services; Work Unlimited; Benco; or Benton Hospice Service.
In one of her cherished flower gardens off her patio, a little sign reads: "Do Small Things With Great Love." That she did. Yet she also did many great things with great love as well, as many can attest. She will be missed.
I debated sending this as it is the widow of one of our instructors – Harry Sackett. Interestingly, in the obituary it speaks of her taking a cross-country trip with "lifelong friend" Pat Malango. Makes you wonder about Joe – is he still around or is Pat a widow as well?
Jim and I both seem to remember Joe Malango passing away a long time ago but cannot be certain. He was going to ask his mother as there was a relationship there.
Mr. Sackett taught some of the social studies classes, perhaps others. I believe he was social science – what was it, modern problems/history?
Barbara and Harry were heros in their personal lives as well--they helped to make the ARC a vibrant organization in Benton County and were instrumental in initiating many of the supported housing, sheltered workshops and community activities that make Corvallis a welcoming place for retarded citizens. Barbara was also a major lobbyist at the state level. My mom was a teacher for her last several years before retirement in the special ed classroom at Wilson school and thought very highly of the Sacketts.
-Mike Franklin