In Memory
Sheri Berg (Ouderkirk) VIEW PROFILE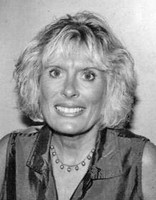 From the NEWS TIMES, Newport, Oregon [ newportnewstimes.com ]
Posted: Wednesday, Nov 3rd, 2010
Sheri Del Ouderkirk, 63, of Newport, Oregon, died of cancer on October 26, 2010 at her home. She was born May 1, 1947 to Norm and Patty (Riley) Berg in Pullman, Washinton. She was retired,
and will be remembered for her many years as a family advocatewith the Lincoln County School District.
She was preceded in death by her father, Norman Berg. She is survived by her husband Woody
Ouderkirk of Newport; children, Alissa Stark and Travis Berg; mother, Patty Berg; brothers, Bill Berg and Brian Berg; and two grandchildren.

No services are planned.

Memorial donations may be made to the Sam Case Elementary "School Supply Fund," 459 NE 12th Street, Newport, OR 97365.

Affordable Burial and Cremation in Newport is handling arrangements.
Thanks to Dick, Anne and Adrya for the information.








Click here to see Sheri's last Profile entry.