In Memory
Theron Bradley VIEW PROFILE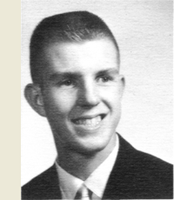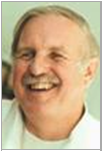 Corvallis Gazette Times October 29, 2007

Theron M. Bradley Jr.
Jan. 27, 1947 — Oct. 26, 2007

Theron Michael Bradley Jr. peacefully passed away at home in Idaho Falls, Idaho, on Friday under the care of Hospice Alliance. He bravely fought a brain tumor for 20 months.

Theron was born in Corvallis on Jan. 27, 1947, to Mildred Esther Freeburn Bradley and Theron Michael Bradley. In addition to growing up and attending schools in Corvallis, he was an Eagle Scout and a member of Order of the Arrow. He played clarinet for seven years in the school bands, and several sports including varsity tennis and intramural basketball. He was on the school honor roll, a member of the National Honor Society, and a participant in the National Science Foundation mathematics summer session; he graduated with highest honors.

At Oregon State University, Theron completed his physics degree work in three years and got a mathematics degree with an additional year of study. He attended college under a full scholarship from the Navy, which also paid for summer cruises to Hawaii and the NATO countries around the Mediterranean and pilot and Marine Corps training. He was president of his social fraternity, Phi Kappa Sigma, and a member of several honorary fraternities, including Phi Eta Sigma and Sigma Pi Sigma. He played tennis and intramural basketball and rowed for the varsity crew his senior year. Upon graduation in June 1969, he was commissioned as an ensign in the Navy.

Theron spent the next 33 years on the senior technical staff of Admiral Rickover and his successors. He did so as a naval officer and as a civilian, including 20 years as a member of the Senior Executive Service of the federal government. He spent the first 13 years of his service on Rickover's senior staff designing the reactors and power plants for Nimitz-Class nuclear-powered aircraft carriers and Los Angeles Class nuclear powered submarines. In addition, during these 13 years, he was director of operating reactor design for the Naval Reactors directorate, in charge of design, operation, maintenance and testing of operational submarines. He was responsible for leading the research and development and design standards for thermal-hydraulics design, shock and vibration resistance and noise reduction. Later, he became the director for steam generator design, construction, operation and maintenance for Naval Reactors. As his last assignment at Naval Reactors headquarters, he directed the development, construction, testing and initial operation of the USS Ohio, first ship of the Trident class, and several subsequent Trident ships.

Also during these 13 years, he completed a certificate (master's equivalent) in nuclear engineering at Bettis Reactor Engineering School in West Mifflin, Pa., with highest honors. In addition, he completed a bachelor of law degree through LaSalle Extension University.

In 1982, on the day before Admiral Rickover was retired, Theron transferred at his request "out west" to be the manager of the Naval Reactors Idaho branch office, at INL. In this job he was responsible for all work, primarily reactor operations, training, and irradiated fuel handling for the Navy in Idaho. This work included operation, maintenance, design, and testing for S1W (Nautilus Prototype), A1W-A (Enterprise Prototype), A1W-B (Nimitz partial prototype) and S5G (Narwhal Prototype). He was responsible for developing, signing, and executing the settlement agreement concerning INL site cleanup with Governor Andrus for Idaho, John Wilzinski for DOE-ID and Theron for the Navy. He was able to achieve completion of the entire Navy work in accordance with the agreed-upon schedule and budget for NRF. At his request, Theron spent 20 years in this job, far greater than the three-year (or less) tenure of most Naval Reactors senior field representatives, based on his successful performance.

In June 2002, Theron was requested by NASA Administrator O'Keefe, with the concurrence of Admiral Bowman, to move to NASA headquarters in Washington, D.C., for at least a one-year tour as the NASA chief engineer. In this role he was responsible for both the NASA engineering community (12,000 engineers) and NASA program management, including development and implementation of standards and execution of engineering and similar work by NASA. In August 2002, Theron was appointed chairman of the investigation board on the loss of the unmanned space probe Contour. On the loss of the Columbia in January 2003, he was appointed as executive secretary of the Columbia Accident Investigation Board, where he provided liaison, technical advice and administrative direction for the conduct of the board. Theron was responsible for subsequent improvements in the rigor with which NASA conducted engineering work and managed expensive projects, and participated in the Administrator's senior group directing return of the space shuttles to flight.

In November 2004, Theron retired from government service. He became more active in the operation of his sole proprietorship, Teton-Pacific Engineering. For this year of semi-retirement, he participated in the long-range planning group for NASA nuclear work and consulted on nuclear and aerospace aspects of the New Horizon mission to Pluto, including making possible resolution of several technical and operational issues that originally were expected to scuttle this now-successful mission.

In January 2006, Theron and his family were able to return to Idaho when he accepted a job from Battelle Energy Alliance. His responsibility included directing the ATR Life Extension Program, a new $200 million program. Unfortunately, at the end of February 2006, a malignant brain tumor was discovered and Theron received treatments and therapies that helped to extend his life well beyond the original prognosis.

Theron regularly attended Calvary Chapel of Idaho Falls. His favorite activities always included outings to the local parks and "road trips" to visit all of his family. His generosity and willingness to help people made a lasting memory in everyone he met. We will miss his smile.

Theron married Marjorie Jane Hay in Corvallis in 1970; they divorced in 1971. He married Laura Joan VonRiesen in Omaha, Neb., in 1972; they divorced in 1979. Finally, he married Karen Elaine Buckmaster in 1991. His parents preceded him in death. He is survived by his spouse, Karen, and three children, T. Michael Bradley III of Pocatello, Idaho, Lynda Bradley of Ammon, Idaho, and Jason Laird of Idaho Falls; and his two stepchildren, Kimberly Morris of Sarasota, Fla., and Jeremy Williamson of Winter Park, Fla. Eight grandchildren also survive him.

A memorial service was held Monday, Oct. 29, at Calvary Chapel of Idaho Falls. Military rites will be included as appropriate during interment at a later date. In lieu of flowers, the family suggests memorial donations to: Theron M. Bradley Memorial Fund, c/o Westmark Credit Union, 815 E. First St., Idaho Falls, ID 83403, Attn: Samantha Gillihan, Acct. No. 1941866.
Mike Utt Remembers Theron
November 2007
I met Theron Bradley when we both started Junior High School at Highland View in September of 1959. He and I shared the same irreverent, ironic sense of humor, and we were friends immediately. The following school year Western View Junior High School opened, and both of us went there. [Historical note: Western View Middle School was torn down in the summer of 2007.] For 10 years until we graduated from Oregon State, Theron and I went to the same schools and ran with the same crowd.
One spring morning in the hallway at CHS, Theron and I were both stuffing things into our lockers, and we looked at each other and asked if there wasn't somewhere else we needed to be on such a nice day. We agreed that there was, so we left instead of going to our first period Band class. Neither one of us had a car, so we walked to the OSU campus, and spent most to the day shooting pool at the Memorial Union. We needed to get back to CHS by the end of the school day, so Theron could catch a bus and I could get my bicycle. We were walking north on 35th street in the middle of the afternoon when we saw our English teacher, Mrs. Shaw, driving south towards us. There was no place to hide, so we smiled and waved. She waved back, and everyone was too polite to ever mention that incident after that. As I remember it, we had to tell the Boys Vice Principal, Mr. Payne, some story about why we missed that day. I think he didn't believe our BS but let it pass anyway.
Six high school boys, including me and Theron, entered ourselves as a basketball team in the Corvallis Church League. We thought we would enter as the Agnostics, but Bill Furtick got permission for us to be the Unitarian team. We figured it was about the same, anyway. Theron was good athlete, but some of us, including me, were not. Nonetheless, we were pretty competitive in that league, and had trouble only with the Baptists, who had a pretty good team, and the Catholics, who could wear the six of us down by sending in lots of substitutes. As I remember, we finished third in the league – but of course, the older I get, the better we were.
Because we played basketball we needed a place to practice. One convenient place was the PE area at CHS, except that it was often locked up when we wanted to use it. The locks on the doors to the gym didn't seem to be much of a problem (a plastic card would open them) but the electrical panel to turn on the gym lights was behind a door with a better lock. As I recall, the way to get the lights on was to send someone up a fire escape to an unlocked second floor window in the Music wing, then have them work their way back down in the dark to the PE area and turn on the lights. The locked door would open from the inside with the crash bar, so the person who committed the burglary (to be perfectly technical about it) could easily join the rest of us in the gym. The funny thing was that if the custodian or someone found us practicing in the gym, they figured we belonged there, and said nothing about it. If you look like you know what you are doing, people usually assume that you do.
Neither Theron nor I had a car of our own during the time we were in High School, but we each sometimes had the use of a family car. In my case, that was a 1947 Plymouth Sedan Deluxe with a faded paint job and a rusty rear fender. In Theron's case, for a while, it was an ugly two-tone green early 1950's Plymouth sedan. One night, several guys were in that car, and drove out north of Corvallis on Highway 99. What we were doing out there, I have no idea – nothing important, I am sure, but Theron was driving fast, anyway. Coming back south into town on north 9th Street, the engine started to knock, then started to knock louder, then gave a BANG, and started knocking really, really loud. I was riding shotgun, and I looked across the front seat at Theron, who was driving with white knuckles and gritted teeth. I could just see him through the growing haze of blue oil smoke. We stopped, opened the hood and looked in with a flashlight. Through the blue smoke, we could see that there was a jagged hole in the head of the straight-6 engine where one of the spark plugs should have been. Theron's dad had been planning to trade that car in on a new VW Beetle the following day. That evening's activity reduced his trade-in value to zero, and he can't have been very happy about it.
The new VW was the source of some further adventures. The fun thing about Volkswagens of that era was that you could basically drive them flat out all the time, and most of the time no one would notice. One night, Theron was driving the VW, I was riding shotgun, and he did something that the Corvallis Police noticed. Theron was driving, headed out of town on West Hills Road towards the Bradley's house, and there was a cop car with flashing lights coming fast behind us. Theron came over the crest of a hill, snapped a left turn into a side street, and simultaneously killed the lights. The police car blew past us and on down the hill, and Theron turned around and drove slowly away.
During our senior year at CHS, I was dating Nancy Tobias and Theron was dating Margie Hay. Nancy and Margie were friends; Theron and I were friends, and a few times we double-dated. In August 1967, before our junior year at OSU, Nancy and I got married. Margie was Maid of Honor. Theron was not at the wedding; he was on an NROTC cruise at the time. Theron and Margie got married in early 1970, and Nancy and I were not at the wedding; I was in southern California on active duty in the Navy, and couldn't get leave to go to Oregon, even for a long weekend.
The "Summer of Love" happened in San Francisco in 1967. The following Spring Break, a group of us made a car trip to San Francisco. Judy Hennings found us a suitable cheap hotel. Nancy and I had a very used 1956 Plymouth Belvedere 2-door sedan with a 2-speed left-handed push-button automatic transmission, and we 6 college students packed in there: the Utt's, Judy Hennings, Bonnie Erickson, Les Hanson and Theron Bradley. The only romantic relationship was between Nancy and me, so when we checked into 3 rooms at the Powell Hotel, it was Men's Dorm, Women's Dorm and Married Student Housing. The six of us had a good time for several days in The City, including walking around Golden Gate Park and Haight-Ashbury and night-clubbing in North Beach, where the topless clubs were still a very big deal. Some of us weren't 21 yet, but I don't recall that we had any difficulty being served.
When we graduated from OSU in the spring of 1969, Theron had interviewed with Admiral Rickover, and was headed for an active duty assignment in Navy Nuclear Power. My parents had a fig tree in the side yard, and I knew where to "borrow" some sheet lead in one of the Engineering Laboratories. I made a lead fig leaf, using a real fig leaf as the pattern. I got a leather boot lace, and tied it at the right length so that when Theron put the leather around his neck, the lead fig leaf was positioned to protect a critical area. In June, Theron packed his clothes and the lead fig leaf into a brand new Triumph Spitfire roadster (there wasn't room for luggage – he just packed the car) and drove east to Washington D.C. I understand that the lead fig leaf hung on his office wall all the years he worked at Navy Nuclear Power.
Sometime in 1970 or 71, Theron and Margie came to visit us in San Diego. I was a Lieutenant j.g. working at Navy Public Works in San Diego; Theron was a Lieutenant j.g. working at Navy Nuclear Power in Washington D.C. Nancy and I were living in a small apartment not far from San Diego State U. We got a baby sitter (our first daughter was less than 2 years old at the time) and the four of us went out for the evening. We walked into a rock'n'roll club on El Cajon Avenue, dressed fashionably (Theron and I in colorful shirts, bell-bottom pants, boots.) It may have been the fact that Theron and I had G.I. haircuts and neatly trimmed mustaches that marked us as Navy – but while the door guy seated us in the dark club full of mostly college students, the house band played the opening bars of "Anchors Aweigh." We felt kind of conspicuous.
After I got out of the Navy and finished graduate school, Nancy and I and our daughters lived in southern California from the mid-1970's to the mid-1990's. Theron visited us a few times. Once he went to the beach with us on New Year's Day, just because we could. Theron and his son Michael came to our daughter Christina's wedding in December 1989, combining the trip with some campus visits for Michael, who was a high school senior at the time.
In 2003, Nancy and I were living in an Empty Nest in Sugar Land, Texas. One Sunday afternoon the doorbell rang, and to our surprise we greeted Theron at the front door. He was the Chief Engineer of NASA at the time, and one of his unfortunate responsibilities that year was to be Executive Secretary of the Columbia Accident Investigation Board. He was in Houston for meetings at the Johnson Space Center, and took a break between meetings to come see us. We talked about our families, and about the engineering projects that Theron and I were working on at the time. He stayed and talked quite a while that afternoon, but didn't stay for dinner because he had to get back to work on Sunday evening. After that I paid more attention to the news reports about the Columbia Accident Investigation Board, but seldom was Theron's name mentioned. He explained to us that part of his job was to let the Board's chairman, Admiral Gehman, be in the spotlight. That was the last time we saw him.
So how do we remember Theron? He was tall and athletic, intelligent and witty. He may have been the smartest person we knew, and he was surely one of the funniest. He was very capable in many areas, and not in the least egotistical. I am sure his ex-wives would say that he wasn't easy to live with. He was sincere in his Christian faith. Everyone who knew him will miss him.
Click here to see Theron's last Profile entry.