In Memory
Sharon Calhoun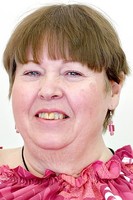 Sharon S. Calhoun
Posted at GazetteTimes.com on Tuesday, July 12, 2011 9:00 am
1947 - 2011
Sharon died at the age of 63 on Friday, July 8, 2011. She was a resident of Corvallis.
Sharon was born and raised in Corvallis. She was a 1965 graduate of Corvallis High School, and later lived in Alaska, California, Hawaii, Louisiana and Texas prior to suffering a stroke 30 years ago. She eventually moved back to Corvallis, and, through therapy, regained much of her life. She started the first stroke support group in Corvallis, and led it for eight years.
She also served on the City of Corvallis Disability Access Committee, helped with the planning for an elevator at First United Methodist Church, and created a catalog for a Guatemalan trip for First Congregational United Church of Christ in Corvallis.
Sharon loved doing needlepoint, sewing, and making greeting cards on her computer. She shared her creations with family and friends. In her younger days, she loved riding motorcycles, and was known by the nickname "Crash and Burn Calhoun." She kept this moniker when she rode around Corvallis on her electric scooter.
Survivors include sisters Bev (Don) Wyne of Washington and Pat (Bob) Ward of California; niece Shawna Kidd and grand-nephew and grand-niece Jakob and Ella, of California; many friends; her church family; and the staff at Corvallis Manor.

************

Inline Image Not Displayed