In Memory
William Garren VIEW PROFILE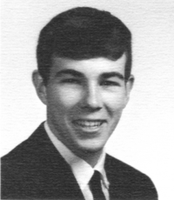 April 6, 1947 - April 25, 2005
CORVALLIS - William 'Bill' Michael Garren, Sr. of Corvallis, went home to be with the Lord on Monday.
He was born in Salem to Ralph and Arlene Garren and spent most of his life in Corvallis. After graduating from Corvallis High School in 1965, he joined the Navy and served two tours in Vietnam aboard the USS Braine. He was honorably discharged in 1970 as a gunner's mate third class.
He was a Christian and was baptized at Northwest Hills Baptist Church in Corvallis. He was married to Mary Katherine Morgan of Enterprise from 1969 to 1993. In July 1974 their daughter, Melissa was born, and their son, Will was born in May 1985.
Bill was a talented welder and gifted artisan who worked with metals, wood and watercolor. He was also an accomplished seaman. He built two commercial fishing boats and fished the coast from Washington to California in the late 70s and early 80s.
He worked as an industrial therapist for SAIF at the William A. Callahan center in Wilsonville from 1981 to 1986, where he taught and helped rehabilitate injured workers. In the mid 80s he established his own steel manufacturing business and designed everything from game hangers to custom trailers.
In the late 1980's he began working with state and federal agencies as an independent contractor fighting wildfires. He led engine crews as a single resource boss and strike team leader in nearly every western state. He also taught and trained many wildland firefighters.
Bill was an avid fisherman and hunter. He especially loved the ocean and cherished the beauty of the Wallowa Mountains.
He will be sorely missed by his family and friends.
Bill is survived by his father, Ralph Garren, Sr. of Corvallis; daughter, Melissa Rose LaCrosse, son-in-law, Mathieu LaCrosse and grandson, Mason LaCrosse, all of Jefferson; son, William 'Will' Michael Garren, Jr. of Corvallis; brothers and sister-in-law, Terry and Joan Garren of Stayton and Dan Garren of Portland; nephews, John and Dean Garren; and nieces, Carie and LeAnna Garren. His mother, E. Arlene Garren, preceded him in death.
A memorial service will be held at 2 p.m. Fri., May 6, at Jefferson Baptist Church, 15002 Hwy 99 E (Jefferson Hwy) in Jefferson.
Click here to see William's last Profile entry.