In Memory
Brooks Harrison (Baker) VIEW PROFILE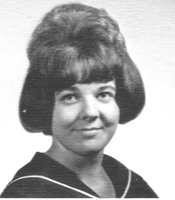 Polio complications.
Ann BROWN Rawls remembers Brooks Harrison
When I was 13 years old, my family moved from my birthplace, Milwaukee, WI to Corvallis, OR. I remember the difficulty of making new friends. Brooks Harrison's dad was my science teacher at Western View Jr. High. She was often in his classroom. It is there where we first found that we had enough in common to be friends. We read the same authors, went to the same church, we liked to take walks and we rode our bikes to each other's homes. I remember having to slow down or stop to allow Brooksie to rest. She never complained about her polio-stricken body or used it as the excuse to not do the things we did together, but I knew that she wanted to have the same freedom of motion that the rest of us had. She had a lovely sweet nature that made me glad to be with her. I was the recipient of her confidences and of her darling pencil sketches, which she would often draw on the back of gum wrappers. I have saved and treasured those gum wrappers. When we graduated to Corvallis High School, we chose to share a locker, all three years, so that we would see each other occasionally even if we didn't have classes together. We corresponded with each other sporadically after we each married, so I knew that she had a son. A lapse in our correspondence made me wonder about her but I was involved in my family and far away so … I lost touch. Several years went by when one of my sisters "ran" into one of her sisters in Oregon. She discovered that Brooksie had passed away from the complications of diabetes. My friend was gone from this life and now free from the encumbrances of this earthly life. Her face is one that I desire to see in our Eternal Reunion.
Click here to see Brooks' last Profile entry.