In Memory
Laura Lemon (Vogel) VIEW PROFILE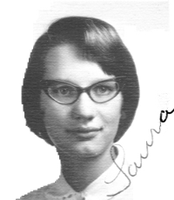 May 5, 1947 – May 23, 2003

SALEM - Laura Elizabeth Lemon Vogel, age 56, passed from this world far too soon on May 23, 2003 of a viral illness of short duration. She was a devoted, loving, and much beloved wife, mother, daughter, sister, grandmother, sister-in-law, and aunt as well as a dedicated children's librarian for over 22 years and a good and close friend to many. In addition to her bereaved family, she leaves behind many dear friends from work and church whom she cared for greatly.
Laura was born in Eugene on May 5, 1947 to Berlan and Dorette Lemon. She graduated from Lewis and Clark College, Portland with a B.A., cum laude, in French, then received her master's in teaching from Oregon State University in 1971 and a second master's degree in library science from the University of Michigan in 1973. She worked for both the Lebanon and Salem-Keizer school districts, primarily at Hoover and Hammond Elementary Schools in Salem. During her career she found great satisfaction and pleasure in reading and telling stories to her students. After retirement she had planned to return as a volunteer story teller and had attended many workshops over the years to develop these skills in preparation of this anticipated event.
Laura married her husband, Allan Hayes Vogel, Ph.D., on March 28, 1970, and they were happily married for 33 years. She greatly loved to read and read many books on an enormous variety of subjects. She also loved knitting. Considered by many to be a master knitter she would often simultaneously knit while she read. She was an original member of the handbell choir, Westminster Chimes, and played for over 23 years. Laura and Allan enjoyed travel to Europe, particularly to France. Their last trip took them once again to France for a three week stay in July 2002. Recently, spending time with her grandchildren became high priority for Laura.
Family survivors include her husband Allan; sons Geoffrey, Robert and his wife Katherine; grandchildren Caroline and Connor; parents, Berlan and Dorette Lemon; sisters Pat Starker and Louise Runkle; and many in-laws, nieces, and nephews. She will be immensely missed by all who knew her.
A memorial service of her life will be celebrated at 3:00 p.m. on Sun., June 1 at Westminster Presbyterian Church, 3737 Liberty Rd. S, Salem. The family asks for no flowers. Donations in her name may be made either to the Westminster Handbell Choir fund or the Hammond Elementary School Library.
Click here to see Laura's last Profile entry.