In Memory
Gretchen Smith (Rust) VIEW PROFILE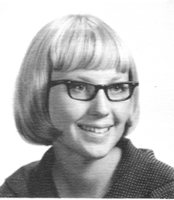 Richard Ruth returned from the 45th reunion to find a letter from Gretchen's brother Kent who reported that Gretchen died at home on July 28 in Hailey, Idaho.
**********
Gretchen Louise Rust
---
Gretchen Louise Rust, 63, of Hailey, died July 28, 2010, at her home in Hailey. Funeral services are pending under the care of Wood River Chapel of Hailey.
***********
Here are some condolences for Gretchen from her friends which mention her two sons, Jeff and John.
Click here to see Gretchen's last Profile entry.