In Memory
Kathy Stewart VIEW PROFILE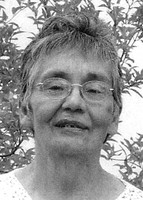 Kathleen Stewart
Posted: Thursday, June 7, 2012 12:00 am
Kathleen Leona Stewart passed away on Wednesday, May 30, 2012, after a long-fought battle with cancer at her Kamiah home, surrounded by her family and friends.
Kathy was born on April 29, 1947, in Portland, Ore., to Bill and Esther (Miller) Buskala. She graduated in 1965 from Corvallis High School in Oregon. Kathy then joined the U.S. Army and remained on the East Coast after she completed her tour of duty. She took great pride in being a veteran and serving her country. In 1974 she was reunited with her Nimiipuu family and over the years she spent time with loved ones in Portland and Idaho. She attended Portland State University and worked in the health care field. She also worked for five years at the Casino in Worley while living in Plummer.
For the past 12 years, she has been with her partner, Walter Broncheau. They made their home in Kamiah. Kathy was very close to her new family and considered them her own. She was proud of being Grandma Kathy to their children and grandkids.
Kathy had a zest for life that encompassed every minute of each day. Reading kept her current with events and issues; she had strong opinions and convictions and wasn't afraid to state them, which many will remember fondly. Strangers would become friends instantly from her amazing ability to be compassionate and caring. Most will remember her commitment and dedication to rebuilding the North Fork Church and the joy it gave her.
Kathy was known for her tough, strong exterior and will be remembered for her strength and grace and her deep faith battling cancer and commitment to family, church and community. She also served as a trustee for the church.
Kathy was preceded in death by her birth father, Bill Buskala; birth mother Esther Williams; stepfather Buck Williams; adopted mother Lela (Long) Tolles; sister Loretta Brown; and brothers Jimmy Miller, Jonny Buskala and Tom Long Jr.
Surviving her are her loving partner, Walt Broncheau; sisters Claudia Welala Long, Mya Buskala, Vera (Bonnie and Bill) Ewing, Virginia Barnhart; and brother Kenny Williams. She is also survived by numerous nieces, nephews and cousins who were all very special to her. She will truly be missed by all who knew her.
Cremation has taken place, and a memorial service will be conducted at 10 a.m. Saturday, June 9, at the North Fork Church in Ahsahka. A covered-dish dinner will follow at the Teweepuu Center in Orofino.
Claudia Long, her sister, submitted this remembrance:
"Our sister Kathy's faith and commitment to church, community and family was an inspiration to many and her memory will live on in the small community of Kamiah, Idaho on the Nez Perce reservation, where she spent a larger part of her life with the Northfork Church in Ahsahka."
Click here to see Kathy's last Profile entry.