John Pittman's Remarks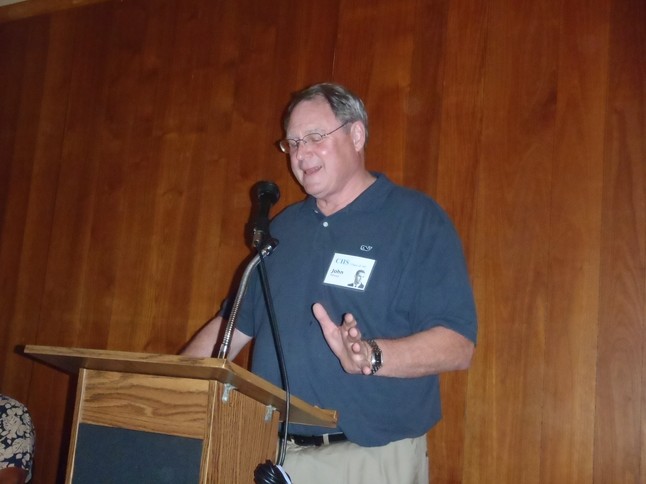 Welcome Remarks-CHS's 45th Alumni Reunion, John Pittman
•Thank you Jim (Pierce) for that kind introduction. I didn't realize I was going to be this evening's entertainment.
•However, before we get started, I would like to recognize our classmates who worked so hard throughout the year to make this weekend's activities enjoyable for the rest of us.
– Would the following people please stand and remain standing until everyone has been recognized:
•Eric Blackledge
•Judy Hemmings Butler
•Susan deMeules
•Sharon Ehrichs Edwards
•Nancy Strange Harris
•Barb Magnusson Maguire
•Jim Pierce
•And everyone else who volunteered their time, effort, or resources to make this weekend's activities possible. Please join me in a round of applause recognizing those individuals who made this 45th reunion possible. (Applause) Thank you.
****
•I also thought it would be appropriate to give you a little history regarding the location of our dinner this evening………..Camp Adair. I found it most interesting.
–Named after a young West Point Cavalry Lieutenant killed during the Pancho Villa Expedition in 1916; son of a prominent Astoria, Oregon family.
–The War Department decision to where the location of this training facility should be came down to Eugene or Corvallis. John H. Gallagher Sr., an OSU graduate and engineer, went to Washington, D.C. to lobby for the Corvallis location and was successful. (Jinx Gallagher, are you in the room?)
–6000 people were relocated; families had to give up their homes, farmers had to be relocated and 414 graves dating back to 1850 were moved. The small town of Wells, OR totally disappeared.
–Camp Adair was established in 1942 becoming Oregon's second largest city with 30-50K soldiers and civilian employees working on/near the Camp .
•"The camp itself had 1,800 buildings, including barracks and mess halls, numerous office buildings, five movie theaters, seven churches, stores, a hospital, and a bakery capable of producing 35,000 loaves of bread each day. Training grounds, artillery ranges, and wooded hills covered almost 75 percent of the camp's area and included a Japanese village where soldiers practiced for a possible future assault on the main islands of Japan." (Camp Adair: World War II (Dallas, Oregon: Polk County Museum Association, 1992), Pages 1-2; Formerly Used Defense Sites (FUDS) Report Re: Camp Adair, 2004, U.S> Army, Corps of Engineers, Pages 12-13)
–The camp served as a training center for the 91st (Powder River), 70th (Trailblazer), 96th (Deadeye), and the 104th (Frontier or Timberwolf) Infantry Divisions that were subsequently shipped out to the battlefields of WWII; 3 of those divisions served in the European Theater (2 in France/Belgium/Germany; 1 in North Africa/Italy) ; the 96th Division was sent to the Pacific Theater where it participated in the Philippine and Okinawa campaigns.
–Once these divisions had departed Camp Adair, the U.S. Army turned the base over to the U.S. Navy to handle casualties from the Pacific Theater with the capacity reaching 3,600 convalescents. It also served as a prisoner of war camp between Aug 1944 and Apr 1946 for Italian and German prisoners, many of which worked on local farms.. The 9th Single Corp was also located here and was responsible for training and directing Signal Corps Photographers during the war .
•As most of you will recall, in 1957 portions of Camp Adair became Camp Adair AF Station and housed the 26th Air Division SAGE Support Facility, until Nov. 1969 when the base was inactivated. SAGE stood for Semi-Automatic Ground Environment…..the block house contained a large parabolic reflector radar warning system that was part of a computerized air defense network linked to missile defense installations. It covered OR, NV, part of CA.
•Although construction was underway for Adair AFS to become a BOMARC missile site, it never happened. (BO=Boeing/MARC=Michigan Aeronautical Research Center)
•Several of our high school classmates lived on base including Mike Brett.
•Is there anyone else in the audience that also lived on Adair AF Station?
•I believe the Oregon National Guard still uses Camp Adair as a weapons firing range and the OSU Army ROTC Program also uses the facility.
•The building we are in this evening is the old Adair AFS Officer's Club, and is located close to the Base Commissary where my father worked and I bagged groceries during the summer months.
–LaNor Hunter's brother, Dwight, also worked in the commissary
.•This concludes my brief historical overview of Camp Adair.
•Now for the David Letterman routine and the top 10 reason why people decide to attend high school reunions.
–#10. I don't know, I just want to attend.
–#9. To return that long overdue library book; hopefully, avoiding any late fees.
(Greg Marks' comment: I didn't know we had a library.)
–#8. To reassure my classmates that I am still alive and well. As Mark Twain once said, "the rumors of my death have been greatly exaggerated".
–#7. To see if so and so is still as ________ (you can fill the adjective) as I recall during my high school days.
–#6. To re-live those "glory days"; a phrase from an old Bruce Springsteen song.
–#5. To see my old high school girlfriend/boyfriend.
–#4. To see who achieved "real success" after graduating from high school. Of course we all know, "success" is a relative term meaning different things to different people.
–#3. To see if (you can fill in the name) is still married to you know who.
–#2. To see if I can still recognize members of the rally squad, the football team, the chess club, or the band. By the way, there is a good reason we are all are wearing name tags with our high school senior picture placed on them. Someone was thinking!
–#1. To enjoy the weekend by participating in the social activities, renewing old acquaintances and establishing new friendships.
•I suspect there is a little truth to each of these reasons as to why you decided to attend our 45th high school reunion. However, those reason(s) really do not matter; the important thing is you are here.
•I encourage you to enjoy a fine meal, visit with your classmates seated at the table and socialize with everyone else once dinner has concluded. That is what this evening is all about!
•Thank you.