In Memory
Jennifer Long (Belin) VIEW PROFILE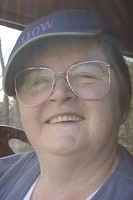 Jennifer Ann Belin

Posted: Saturday, December 3, 2011 8:00 am
Aug. 3, 1947 - Nov. 23, 2011

Jennifer Ann Belin, 64, of Anchorage, Alaska, died on Wednesday, Nov. 23, 2011, at Alaska Regional Hospital.
A memorial service was held on Nov. 28 at Hillside O'Malley Seventh-day Adventist Church in Anchorage.
Jennifer was born on Aug. 3, 1947, to Emmett and Mary Long in Seattle, Wash. Jennifer grew up in the Pacific Northwest, and graduated from Corvallis High School in 1965. After graduation, she continued living and working in Oregon. Jennifer and Lynden Belin were married on April 15, 1979, in Hillsboro. The couple moved to Alaska in 1984. They made their home on Douglas Island, and for the past several years in Anchorage.
Jennifer worked in human resources for the federal government within the Internal Revenue Service and the National Park Service, and with the U.S. Army. She was a faithful member of Hillside O'Malley SDA Church, where she worked as the church secretary. She was active in the church's knitting group. Jennifer enjoyed needlecrafts, photography and showing dogs.
Her family said, "Jennifer had so many qualities for which she will always be remembered. She was an artistic woman with a special love for the unique (except for new foods). It wasn't uncommon to find her literally dancing with joy over even the smallest of things. She fought for what she thought was right, and was always very generous. Her belief was that consequences were made to fit the crime, most notably when she was a school bus driver. She was always dedicated to family and her work. She also had a special fondness for her animals. Most of all, Jennifer will be remembered for her love for the Lord with all of her heart."
Jennifer is survived by her husband, Lynden of Anchorage; daughters, Rhonda Rhoder of Mt. Vernon, Ohio, and Ericka Fehr of Hudson, Ill.; son, Henry Belin of Anchorage; grandchildren, Avery Taylor and Alexandra; brother, Henry Long of Dallas; sister, Melodie Sickles of Independence; and many friends and co-workers.
She was preceded in death by her parents and one brother, Gregory.
Arrangements were entrusted to the Hasara Family and the Cremation Society of Alaska,
Click here to see Jennifer's last Profile entry.